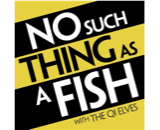 AudioBoom has inked an exclusive deal for the hosting, distribution, and monetization of the podcast No Such Thing As A Fish. The popular British podcast features comedic investigations into obscure or unusual facts. The four hosts are researchers for the BBC2 panel show QI: Quite Interesting.
'We are delighted that the QI Elves have brought their wonderful podcast No Such Thing As A Fish to audioBoom," said Ruth Fitzsimons, audioBoom's global head of content. "We are huge fans of the show, and they are a true example of how British podcasting is going from strength to strength. And that is a fact."
No Such Thing As A Fish has an average of 1.58 million monthly plays worldwide, with about half of them in the UK. The U.S. audience is growing to about 196,000 plays monthly. Since it launched in 2014, the program has been downloaded more than 33 million times and received several accolades.