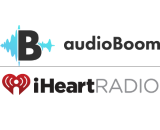 Global podcasting platform audioBoom announced that it has created a distribution partnership with iHeartRadio, whereby its on-demand audio programs are exposed to iHeartRadio's millions of listeners.
"Working with iHeartRadio will provide us the opportunity to promote our 2,800 podcast channels through their music streams, which will significantly support discovery and audience growth – two major issues that the podcasting industry is still challenged with," said audioBoom COO Stuart Last.
Stuart Last is certainly on point about podcast discovery, a persistent issue that is tackled in several different ways by various networks. the intent behind the iHeartRadio hookup is to gain a distribution path to millions of potentially unduplicated listeners who are registered with iHeart's digital platform. iHeartRadio claims 95-million registered users.
The agreement also meshes with iHeartRadio's strategy as articulated by SVP of Podcasting Chris Peterson, who recently told RAIN News,  "If it's not available [on iHeartRadio] yet, it will be shortly."
So it's about program visibility for audioBoom and its client podcasters, and about presenting a robust catalog of content for iHeartRadio. There is also an economic benefit, as described by audioBoom: "As part of the partnership, audioBoom will dynamically insert targeted ads into the iHeartRadio platform, providing an additional way for podcasters to monetize." Extended reach also has financial ramifications, by "naturally increasing the performance of live-read advertisements by casting a wider net."
"We are excited to help usher in a whole new crowd of listeners to audioBoom's podcasts by leveraging the power of iHeartRadio across our apps and broadcast radio," said Chris Peterson. "AudioBoom has some of the best content in the podcasting space and we're excited to also share it with our millions of listeners – it's a great opportunity for everyone."